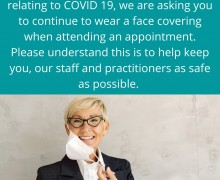 So today's big news is of course "Freedom Day"; and for us at The Chiltern Clinic, the huge, unexciting news is that there will be NO changes to our clinic procedures!
We are proud to offer a range of health related services at The Chiltern Clinic, so of course your safety is at the front of our minds when it comes to visiting us in these times of coronavirus.  We have undertaken an in-depth risk assessment and put appropriate steps in place to ensure the clinic remains a Covid free environment, and to minimise risk of infection for patients, clinic practitioners and other users at Fennels Lodge alike.
More information about our procedures can be found at the bottom of the page; Covid-19 (We're still) Safeguarding your health
So enjoy freedom day and whatever it means to you: whether it's a long awaited wedding, letting loose in a nightclub, or like us, that nothing changes!
And please do remember to keep yourself and your loved ones safe… and not forgetting other people's loved ones too!
We look forward to seeing you!