Try something new today!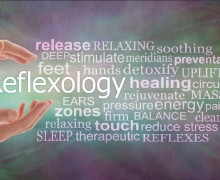 We are delighted to announce that Reflexology in now available at The Chiltern Clinic!
Alison Cooley is a fully qualified reflexologist, and a member of the Association of Reflexologists.  Alison trained in reflexology after experiencing first hand the benefits of treatment as a migraine sufferer.
Remembering her first treatment, she says "I felt like I had a received a full body massage from the inside out and felt tremendous benefit after only a couple of sessions".
If you would like to find out more Alison would love to answer any questions.  You can contact her directly on 01494 911319 or email her at hello@alisoncooley@reflexology.co.uk.
Archive
January 2022
December 2021
November 2021
October 2021
July 2021
April 2021
February 2021
November 2020
October 2020
March 2017
October 2015
June 2015
January 2015
November 2014
October 2014
September 2014
May 2014