The Brain Health Programme
Lorna Rhodes, our wonderful nutrition expert would very much like you to come to hear about how you can reduce your risk of Alzheimer's disease and other types of dementia.  See here for more details.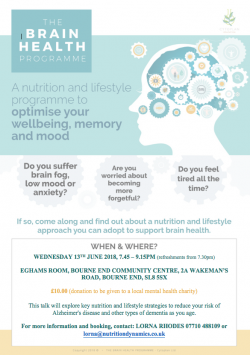 Welcome to Corinne Gordon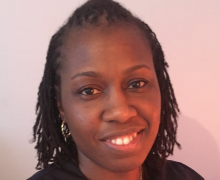 Welcome to Corrine Gordon, our latest team member. Corrine will be providing reflexology to our clients and brings skills learned in her career as a midwife as well as her reflexology training.
As well as the traditional foot reflexology, Corrine specialises in the Bergman technique; trained by Ziggie Berman, a leading UK facial reflexologist and creator of the 'Zone Face Lift' and Bergman Method Facial Reflexology, Corrine uses these techniques to helping clients achieve their full potential in radiant beauty, health and well-being.
Welcome to Tracey Bramham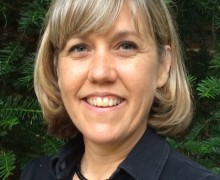 We are very pleased to announce that Tracey Bramham is joining our team at The Chiltern Clinic.  Tracey will be offering Acupuncture and Reiki to our patients, very welcome additions to our portfolio.
Tracey says, 'Having worked in the corporate events industry for 20 years, I am acutely aware of the effects that stress, tight deadlines and long working hours can have on the body and mind.  Modern living continually knocks you out of balance and our health is a precious commodity we often ignore.  I decided to study both acupuncture and Reiki due to the positive healing benefits I experienced on my own body, mind and spirit.  Holistic healing has become a fundamental component of my health regime'.
Do please contact Tracey with any questions you have on either therapy.
Welcome to Jennie Simmons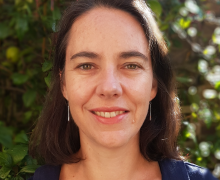 A warm welcome to our latest team member, Jennie Simmons.
Jennie is not only a Cranio-sacral therapist, but a positive psychologist and infant massage instructor and is a member of the Cranio-sacral Therapy Association, Complementary Therapy Association and the British Psychological Association.
Jennie combines healing approaches, underpinned by cranio-sacral therapy, to find the best approach for each individual. Working holistically to help you achieve greater overall wellbeing.
Call Jennie now to make an appointment or ask any question you may have.
Cold Laser Therapy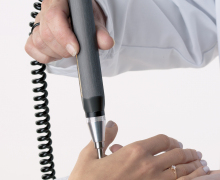 By Rebecca Marsh (CThA)
---
Recover Faster, Restore Your Health, Live Pain Free
Chances are you have never heard of Cold Laser Therapy, or Low Level Laser Therapy, as it is also referred to. Little is known about this amazing treatment in the UK though it is used widely in the USA, Australia, South Africa & Russia.
With a proven track record of over 30 years, it's no wonder the benefits of Laser Therapy are used in hospitals, clinics and private practices worldwide. Here in the UK however, the treatment is not widely promoted and is still only available in a few NHS departments and in private practice – you just need to know to look for it!
Cold Laser is the latest and most advanced light source used for faster healing, tissue repair and pain relief. It is completely safe, non-invasive and with no side effects.
Laser Therapy can be the answer to healing many conditions when other treatment modalities have failed. Sometimes the body can be resistant to resolve conditions through traditional means, or medication and this is where Cold Laser Therapy comes in to its own.
How does it work?
Cold Laser Therapy is a technology that allows your body to convert light energy into chemical energy (rather like photosynthesis in plants). During a Cold Laser therapy appointment, a light source emitted from a hand held device, is placed directly on the skin. Light energy photons, penetrate the skin and cause a cascade of physiological responses that result in repair of injured tissue, pain relief & faster healing.
Essentially by directly treating damaged tissue with appropriate light, laser therapy helps the body to heal itself. Laser therapy is especially effective for chronic conditions, or where the immune system is compromised, as it can re-start a stalled healing process. It is also excellent for sports injuries and acute conditions.
The Treatment
Treatment is quick, pain free and easy to apply. Appropriate probes are placed on the skin at particular points on, or relating to, the damaged area and light, which is controlled for wavelength, power, pulsing rate and duration passes into the tissue.
Patients respond quickly when treating soft tissue conditions and pain, with results usually evident in the first 1-2 treatments. Treatment times per session are relatively short compared to that of most traditional treatments. Treatment time ranges from 1 hour (initial session) to 15 minutes depending on the condition and area being treated.
The number of treatments required will vary depending on the individual. Every patient and condition responds differently. Some patients may need 1 or 2 sessions, others may require up to 12 or more for a complete resolution.
The Advantages
The effect of each treatment builds on the last, and even after the first session, Cold Laser Therapy improves joint mobility, reduces inflammation and eliminates painful symptoms. Unlike most pharmaceutical or therapeutic options, Cold Laser is painless, non-invasive and non-toxic. There have been no significant adverse effects reported in over one million treatments.
Rebecca Marsh at The Chiltern Clinic is a Cold Laser Therapy specialist and has been working with the Omega Laser for 6 years. She has practised alongside physiotherapists and consultants in London and the surrounding area treating patients in post-operative care & rehabilitation, as well as her own private clients, treating a wide range of conditions.
CONDITIONS COMMONLY TREATED BY COLD LASER THERAPY:
Back & Neck Pain, Joint conditions, Soft tissue injuries, Nerve & Disc pain, Muscle Spasm, Repetitive strain injuries, Hand & Wrist Pain, Osteo & Rheumatoid Arthritis, Tendonitis, Tennis & Golfers Elbow, Bursitis, Foot & Heel pain, Sciatica, Rotator cuff injuries, Fungal Infections, Carpal tunnel syndrome, Post-operative pain and scars, Swelling & Inflammation, Fractures, Eczema & Psoriasis
For more information & research on Laser Therapy go to:
https://www.evidence.nhs.uk/Search?pa=1&q=low+level+laser+therapy
Or contact Rebecca Marsh  now.