Latest News
Reflexology Taster Session Event – Saturday 5th February 2022!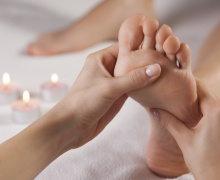 Are you interested in finding out more about the benefits of reflexology?  Why not contact Alison to book in for a FREE taster session on Saturday 5th February!  Visit Alisons' facebook page here for more information, or click here for contact details
Christmas Gift Vouchers available for Reflexology or Thai massage – buy now and save 20% !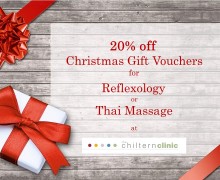 Looking for Christmas Gift ideas?  How about the gift of relaxation!
Gift vouchers are available for both Reflexology and Thai massage… and up until Christmas we are offering you a healthy 20% off.
So if your loved ones' stockings are filled with tired feet this Christmas, show them some love with 60 minutes of pure relaxation whilst rebalancing body, mind and soles!
Click on names to contact either Alison for reflexology or Hannah for Thai Massage.
Welcome to Dr Amy Stewart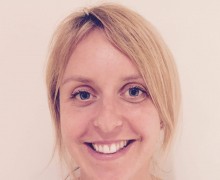 We are delighted to introduce Dr Amy Stewart as she joins the team at The Chiltern Clinic.
Amy is a fully qualified Clinical Psychologist with 15 years' experience of working in psychological services across the NHS, Social Care and Voluntary Sector organisations, where she has worked together psychologically with children, young people and adults.  Amy has a range of psychological therapies she is trained in, and so can work flexibly with to suit your needs.
Amy offers a free 15-minute telephone consultation to help you decide whether her services would be appropriate for you.
Click here thechilternclinic.co.uk/practitioner/dr-amy-stewart/ to find out more information.
Try something new today!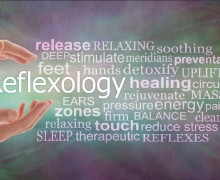 We are delighted to announce that Reflexology in now available at The Chiltern Clinic!
Alison Cooley is a fully qualified reflexologist, and a member of the Association of Reflexologists.  Alison trained in reflexology after experiencing first hand the benefits of treatment as a migraine sufferer.
Remembering her first treatment, she says "I felt like I had a received a full body massage from the inside out and felt tremendous benefit after only a couple of sessions".
If you would like to find out more Alison would love to answer any questions.  You can contact her directly on 01494 911319 or email her at hello@alisoncooley@reflexology.co.uk.
We're Expanding!
Exciting news from The Chiltern Clinic….. We're Expanding!
We now have an additional therapy room at clinic, which means we will have an even greater range of therapies available. Watch this space in the coming weeks for more information on our wonderful new team members.
Or explore our website now to find out more about how we may able to help you to feel your very best!