Challenge Cancer with Smart Food Choices
Lorna Rhodes (Our Nutritional Therapist) is running a FREE TALK that explores nutrition in helping prevent cancer, support patients during treatment and encourage healthy choices to lessen the risk of recurrence after treatment.  
29TH OCTOBER @ 7.30PM: TARGET ROOM, BOURNE END COMMUNITY CENTRE
Lorna is very happy to talk to individuals about her skills and experience. Please call 07710 488109 or use our contact page to book your place or ask for more information.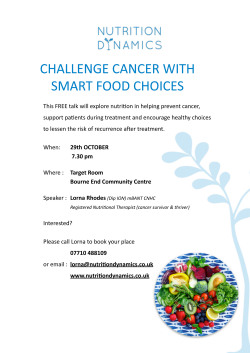 Archive
January 2022
December 2021
November 2021
October 2021
July 2021
April 2021
February 2021
November 2020
October 2020
March 2017
October 2015
June 2015
January 2015
November 2014
October 2014
September 2014
May 2014